Resources


Print and export examples

Current version
Drago current version is 4.23. Download or take a look at the release notes for the description of the latest changes.
---
What is it?
Drago is a Windows freeware application dedicated to the game of Go. It enables to:
browse and edit game files,
print and export,
create game databases and search for games with some pattern or some game properties (players, result, date, ...)
replay games,
solve problems,
play against game engines.
More features:
Unicode
Tabbed interface
Export games to RTF, PDF, HTML and Word
Export figures to WMF, BMP, JPEG, GIF, PNG and ASCII
Standard installation, complete uninstallation
SGF compliant
Read multi game files and folders
Installed with a game collection (in SGF and database format) and four problem collections.
... and more.
---
Drago is translated into:
Arabic
Brazilian Portuguese
Chinese simplified
Chinese traditional
Czech
English
Finnish

French
German
Hungarian
Italian
Japanese
Korean

Polish
Russian
Slovak
Spanish
Turkish
Vietnamese
(
: Translated help file available)
If you are interested in adding another language, please let me know. The translation page will give you some technical information.
---
Installation
You need to:
To play against a game engine (GNU Go, Go169, MoGo, etc.), you must download it and declare it in the game engine tab of the option dialog. All common engines are predefined and you don't have to bother with command line parameters. This is described here.
---
libkombilo
Drago is interfaced and installed with the libkombilo library. This open source library is developed by Ulrich Goertz and provides all functions from his database program Kombilo.
---
Links
Some general links or links offering resources well adapted to Drago are listed here.
---
Resources
You can check the resource page for:
a wood texture collection (also available in Drago install)
a Perl html to sgf converter for goproblems files
a 4x4 problem collection extracted from goproblems with the previous script

Click on caption to see preview



Main window

Game information view

Thumbnail view

Print layout dialog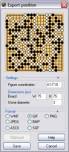 Export position dialog

Option dialog